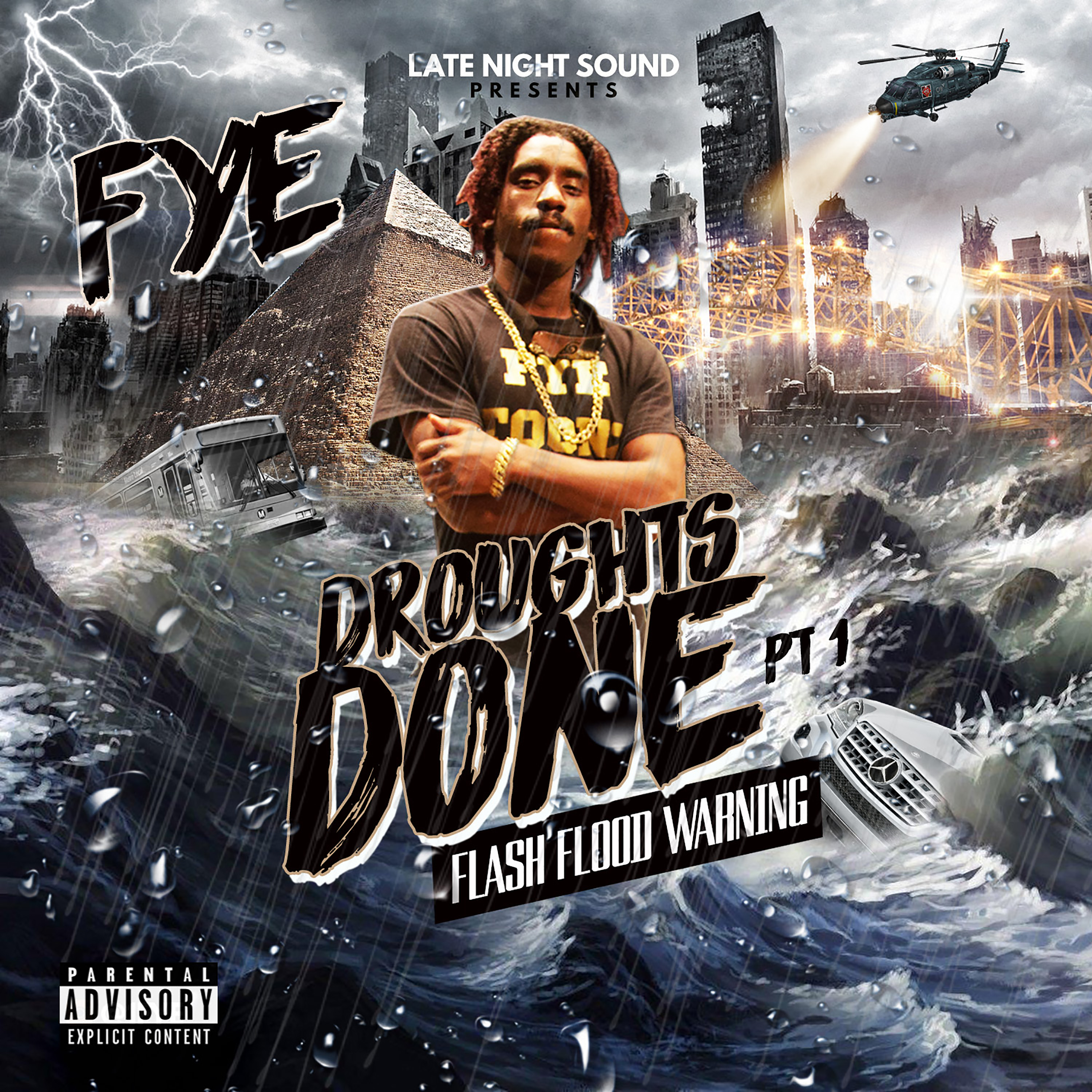 "Droughts Done" new project drops from Memphis artist
FYE
MEMPHIS, TN – The artist known as FYE started out as a producer from Memphis, Tennessee
who would sell his beats online and gained success in partnering with YouTube. He was a
talented musician who eventually gained a name for himself and did well online, so much so
that fans begged him for a full album of his own music. He rewarded them with a mixtape called
"Home Field Advantage," which he released more than a year ago. After that release, he
stopped making music and focused on working hard and making what money he could through
selling beats and studio time out of his apartment. As Memphis is known for its hardcore
gangster rap scene, FYE hopes to bring a new wave of artistry to his home town among a group
of people that is trying to compete with music industry majors. His approach is to employ a more
urban, wavy sound.
As a tribute to his fans and to his favorite artist, Lil Wayne, FYE is ready to launch a new album
that he's aptly naming "Droughts Done."
"My fans have been waiting and waiting for me to drop new music, and now the Drought is
Done," he said. "I'm getting ready to flood the industry with this new wave of music. So get
ready for that flame."
FYE has 18 songs ready to drop on the project – six of which are covers. He said he did this
intentionally as a nod to Lil Wayne's six-mixtape series called "The Droughts Over," on which
the famous hip-hop artist would rap over the top of popular songs of that time. FYE said he
hopes to build a music career for himself that is similar to Lil Wayne's, and it only made sense to
create a new project that was similar to his music icon's.
"I want people to know me as the one of the greatest entertainers who ever lived," FYE said,
emphasizing that his future plans are not only for music. "I'm not just rapping or singing or
dancing, I'm doing everything. I'm writing, I'm behind the scenes doing the production, I'm out in
the streets doing the ground work and relating to the public, and I have my own independent
label (Late Night Sound) based out of Memphis. I want to start doing music and blow up in the
industry, then eventually start my own clothing line and movie company and be a great creator.
I've always wanted to do things that were never thought of, and this music is the ticket to
manifest those things. I want to be just like Michael Jackson and Lil Wayne and all the greats
who came before me."
The first step of that journey starts with the new album. He said it's the perfect project to show
off all the skills that he has. The lyrics, clever bars, wavy beats and witty wordplay are 100
percent unique. One of the lines from his track "On" emphasizes this point and nods to Michael
Jackson's lyric: "She think I'm Michael Jackson Chamone." Fans can also see him perform
smooth dance moves while entertaining the masses across the country on different stages and
venues!
FYE's style is futuristic, heavily produced and sonically engineered, which gives his fans a more
melodic, dreamy, lullaby-ish sound. FYE said he can't be put in a box of any specific genre
because it's impossible to know what he is going to do next. He said he knows this is what
keeps his fans enticed and wanting more.
"Ever since I was a kid, all I ever wanted to do was entertain people," FYE said. "I feel like I was
put on this earth to entertain people. So that's why I'm here: For Your Entertainment."
To listen to FYE's music, or to follow him on social media, please visit:
https://twitter.com/1Fyetoonz
https://www.instagram.com/1fye/
https://www.facebook.com/FyeTOonz/
https://soundcloud.com/fyetoonz
Snapchat @1Fye