With his latest single, "Welcome to the World," Trudytheproducer is doing two things. He is delivering a message of mental health and help and launching a career as an artist.
He has come to it through some dark times and survived, and the song's message is yes, it's a hard world, and you have to take care of your mental health. That means not only seeking help when you need it, but providing help, too.
"The ultimate message, I would just say, is to let people know those silent battles that they're fighting, they're not alone.," he said. "This is pretty much a common thing, but for a lot of people it's just not  talked about, so I'm just shedding light."
"This world is not a game / It's survival of the fittest." The message is delivered in a hip hop beat with a modern R&B background.
The video has some fun with the message. Tru, in one part, is in a therapist's office and portrays both the patient and the doctor. That's part of the message, too, that everybody needs help, including those whose job is providing help.
"I was gonna make sure that the song shines the light on the ones who are usually there for people who have issues and speaking on them because sometimes they don't have an outlet. They're on the receiving end of everybody else's issues you know. It's like who do they turn to? I want to shed some light for those people who may not have anybody to turn to."
His music is a fusion of hip hop, R&B and soul that presents "his take on old-school themes and up-tempo rhythms," he says in his bio. It is, he says, "infused with a distinct Southern flair."
Describing southern flair, the native Alabaman said, "Well, I'd definitely have to say when you hear my accent." He goes on to say that it also means the beats are more forward and straight to the point, but a little slower.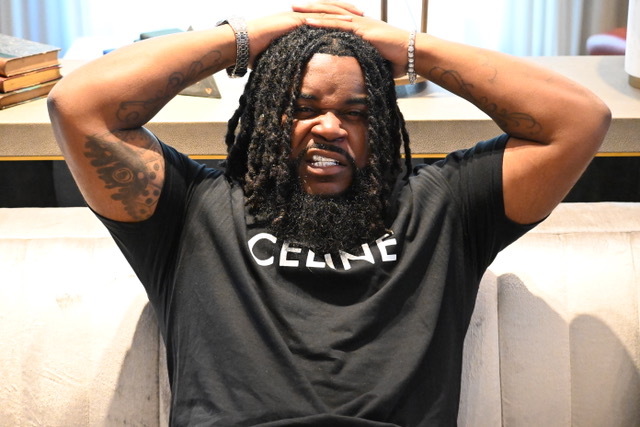 He still lives in Alabama but is in New York for the time being to launch his career, which up to now has been about making music for other people. He made the move last year when he released "Ricky," a more straight-up rap with a heavy bass beat and rapid-fire lyrics.
He was ready to branch out and do more, he said, even though he didn't have a lot of time. He was busy engineering for other artists, and making beats, and with "Ricky" he was "trying to get back to the artist side of things."
He has a lot of music ready to go. His next single, coming out now for Halloween, is "Nightmare," described as "the hood version of Halloween, the hood-slash-Harlem-hood version of Halloween."
"We got Halloween coming up, so I'm thinking what could I do just to have some fun, what's something cool I could do?"
Now, he wants his music to be his career.
"I want music to take me to a point to where I can take care of me and my family for the rest of my life," he said. "I put in a lot of hard work, didn't ask for much, was very underpaid for a lot of stuff. But it was because of the love I have for music and the love I have for people, but I feel like it comes to a point where my work should pay off."
And that right there is the straightforwardness of Southern hip hop.
Musically, he wants to take all his experience with hip hop, R&B, rock and pop and take an active and creative as well as lucrative part in a career in music. He wants to sing and produce and mix music. He wants to collaborate with other musicians, put out more records and provide features, beats and engineering for developing artists as well as legends.
"I want," he said, "to keep the world on their toes and hungry to hear the next song."
Stay connected to Trudytheproducer and follow his career on all platforms for new music, videos, and social posts.
Website: https://www.newkingmmg.com
Soundcloud: https://soundcloud.com/user-306350383/welcome-to-the-world?utm_source=clipboard&utm_medium=text&utm_campaign=social_sharing
Spotify: https://open.spotify.com/artist/3x2oP1MPYL4y2LW4oNPxvu
TikTok: https://www.tiktok.com/@trudytheproducer 
YouTube: https://youtu.be/WdYz8Ug9PLA