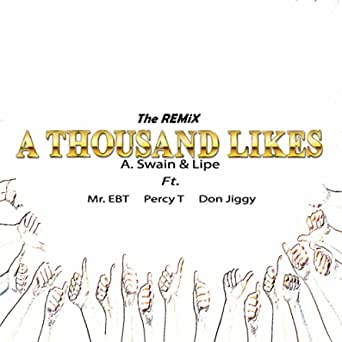 A Thousand Likes – The ReMix Viral Music Video – ft. Mr. EBT, Percy T, Don Jiggy
https://youtu.be/0a9DfjGdXHE
A Thousand Likes Remix featuring Aswain/Lipe, Mr EBT, Percy T, & Don Jiggy! Hit single distributed by The Scorpio Collective/Sony Orchard headquartered in New York City! The single is also featured on the MTV Italia website and several other media platforms.
Follow on Instagram:
@aswain1000
@iamlipebeatz
@percytmusic
@donjiggy
@mrebt
@ikfilms
Apple Music: https://music.apple.com/us/album/a-thousand-likes-feat-mr-ebt-percy-t-don-jiggy-remix-single/1153717328
Amazon: https://www.amazon.com/dp/B01LX7N62F/ref=cm_sw_r_cp_ep_dp_b9Z3ybAV0F830
Spotify: https://open.spotify.com/album/0IhYurQzZLG1Qzy9z0Ed6T