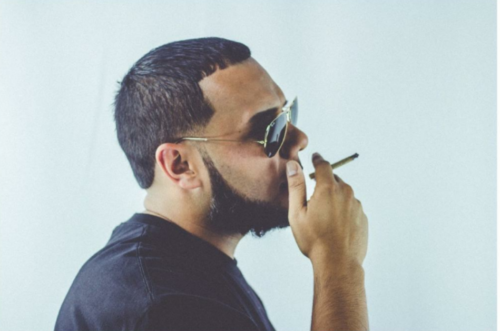 Boogie Noche combines trap with boom-bap on
new album, 'Darker Nights'
BROOKLYN, NY – Boogie Noche likes fun music.
His unique trap and "boom-bap" sound combines with a larger-than- life persona in a one-of- a-
kind artist who is lighting up the East Coast with his new music. Though he's spent more than a
decade in the industry – grinding it out and riding a wave of success – he knows that the launch
of his new album, "Darker Nights," will put him on the map in ways he's never before seen.
"Basically we're all looking for success and sometimes you have to go through rough things to
get there," he said. "That's what this album is all about. It's not always a good night
– sometimes we have darker nights. And this album uses diverse sounds to explore some of
those themes. There are five boom-bap records on it and the rest are trap. And throughout it all
I'm getting lyrical and having fun with the music."
The main single from the album is a song called "I Got Rhythm." It's the perfect example of one
of his "boom-bap" songs, and features a classic 88 Jay-Z sample on it. Boogie Noche said he
turns to a little of a trap beat toward the middle of the song, and the outro also feature a bit of
trap. And at the end of the day it's one of those songs that people will just love to have fun with
and listen to over and over again.
"It sounds dope," he said. "I was just flexin flows and putting it on for Brooklyn. It's one of those
tracks where I'm just going off, and I gotta let you know I got it. And like with all of my music, I
just want people to relate – even those people who aren't at the same level. We're all the
same, no matter where we are around the globe. We can all relate on a certain level. But most
especially if you're down with hip-hop, then we can probably get down together."
Boogie Noche said that though he loves to have fun, he's also grounded and can spit with a lot
of different flows while discussing a wide variety of topics. He never wants to stick to the same
formula from record-to- record. That's why he's constantly trying new flows and listening to
other sounds within the industry to try to stay at the level that keeps him mainstream, while
still pushing the envelope with creativity.
"And I give them my flavor," he said of his music. "I'm lyrical and flow-wise I do some
harmonizing and some singing. I'm not a young guy in the game, but that doesn't mean I can't
keep up with them. I sound completely different from a lot of people, and I have definitely
developed my own lane. I love commercial, underground, and all angles and aspects of hip-hop.
I dip and dive and try to make what I'm good at and then mix it all together."
To listen to Boogie Noche's music, or to follow him on social media, please visit:
https://www.instagram.com/noche366/
https://twitter.com/Noche366
www.soundcloud.com/boogienoche